The Engraved Nameplate Necklace includes a cable chain and a bronze or sterling silver nameplate measuring approximately 1-5/16" wide by 1/4" tall.
Your nameplate will be personalized in the font selected on the ordering form. For Roman Numeral format, please enter in Roman Numerals. If entered as standard Alphanumeric, the numbers will not be converted and will be engraved as Alphanumeric.
Script Font Style: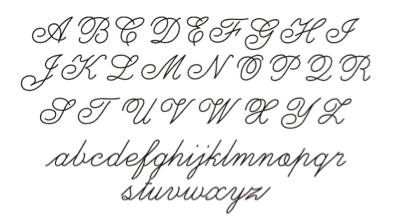 Block Font Style:

Please measure chain length carefully for this design - chain exchanges will result in an additional fee since the necklace will need to be reassembled.

Please review our Chain Length Guide for questions on selecting the appropriate chain length. Lengths will vary slightly based upon individual build, neck size and chest size. For nameplate necklaces the chain measures the length stated and the nameplate slides on the chain - the chain length is not determined by the "drop" of the chain. For specific information about chain exchanges and associated fees, please review our FAQs section.

This design is deep-engraved and custom made in our California-based studio. For more on the process of deep-engraved jewelry, please visit our Details Section.

To preserve the original luster of our bronze, sterling silver and gold-filled jewelry, be sure to regularly polish your piece with a polishing cloth. Learn more about the nature of our metals and how to care for your jewelry in our FAQs section.