Build Your Charm Necklace
A custom modern heirloom is just a few short steps away.
There are multiple ways for you to create your one-of-a-kind piece. Start at the top of our site and select a particular Personalized Jewelry category, a Collection or an Occasion. Next, If you have certain features and styles in mind, we recommend using our navigation filters located on the lefthand side of every page.
Here's How the Navigation Filters Work
STEP 1: Select Your Jewelry Category.
STEP 2: Personalization
How do you want to personalize your charm? Here's a breakdown of the different options.
Initial - A initial charm is a subtle way to celebrate YOU or keep a loved one near.
Name - Hand-stamped or engraved, a name charm captures the power names hold. Wear your own namesake on a classic nameplate necklace or tag or celebrate the names of your children, grandchildren or that special someone.
Dates - Commemorate birthdates, anniversaries or when you first met.
Coordinates – Where's your "happy place"? Send us the longitude-latitute of a place near and dear to you and we'll hand-stamp it on a charm, creating only to you.
Double Sided – Maximize what you want to say with our double-sided charms. Keep something hidden, close to your heart.
Birthstone - Birthstone jewelry is an easy way to make your piece personal. Our gemstone charms add the perfect pop of dazzle and color.
For more tips on personalization, see our Style Tips & Inspiration.
STEP 3: Material Matters
Have a particular metal in mind? Our designs are made from ancient metals such as sterling silver, bronze, 10K Gold, 14K Gold. Diamond lover? Here's where you can search for all diamond jewelry. You may also specify white, yellow or rose gold under Material Color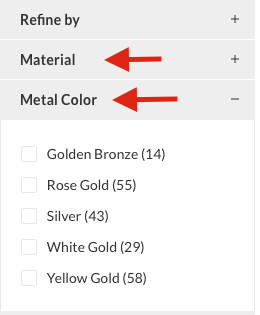 STEP 4: Charm Shape
Select a shape for your charm or leave blank to see all your options.
Style Tip: Need a lot of room to say what you have to say? Choose a Rectangle charm
Looking for something more eclectic? Check out our UNIQUE shapes which feature organic forms and mixed metals.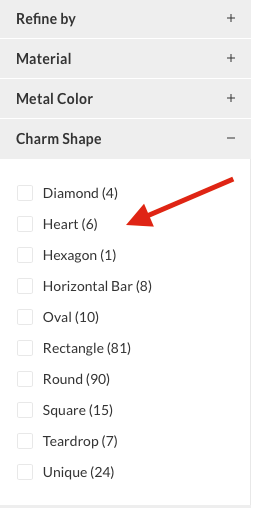 STEP 5: Number of Charms
Filter by the number of charms you'd like to include on your necklace. This number indicates how many charms the base design includes. If you want a necklace with two charms, select 1 + and 2+.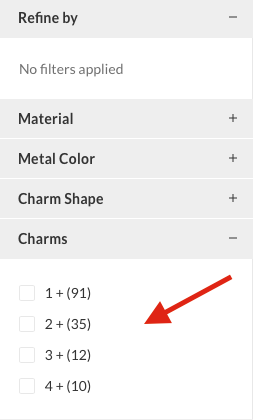 STEP 6: Craftsmanship
Choose between hand-stamped and engraved. Style Tip: fsdf
STEP 7: Price
Know how much you want to spend? Just set your minimum and maximum price point and we'll filter your options.
Add some Flair
Three Sisters jewelry designs are endlessly customizable. For each base product design, we offer specific options to add extra charms or gemstones, choose different metals or change the length of a chain.
We're always here to help you customize your one-of-a-kind piece so feel free to reach out to us!