The 14K Gold Angel Delicate Nameplate Necklace includes one nameplate necklace measuring approximately 1/4" tall and approximately 1" long (length varies based upon personalization) and one 14K gold chain.
Script Font Style: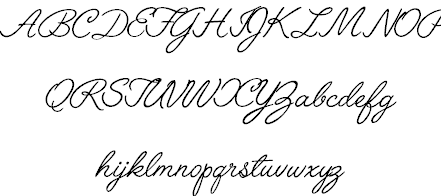 Your charm will be personalized in the font shown on the website. Please note, we are unable to accommodate special font requests for this design.
** Please note that this design takes one additional week of production time to that noted on the website. **
This design is custom made in our California-based studio. As each unique piece is crafted by hand, slight variations will occur. For more on our jewelry processes, visit our Details Section.

Please review our Chain Length Guide for questions on selecting the appropriate chain length. Lengths will vary slightly based upon individual build, neck size and chest size. For nameplate necklaces the chain measures the length stated and the nameplate slides on the chain - the chain length is not determined by the "drop" of the chain. For specific information about chain exchanges and associated fees, please review our FAQs section.

Please measure chain length carefully for this design - chain exchanges will result in an additional fee since the necklace will need to be reassembled and resoldered.